Strombecker made some 1/32-scale Barracuda slot cars in 1966.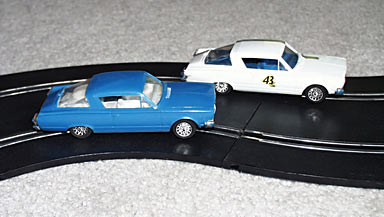 These were apparently made for Chrysler Corporation, though perhaps not exclusively. Several different box styles have been seen, perhaps different between the US and Canada...? (If anyone knows the details, please join our mailing list and fill us in.)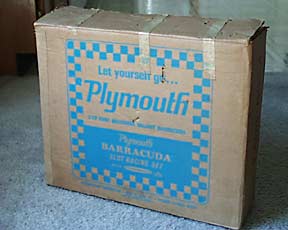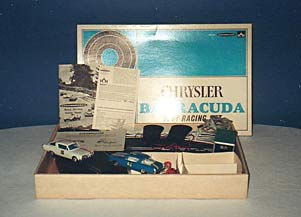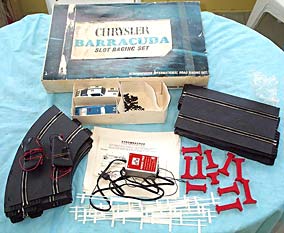 The contents seem to be the same, though. Cars came in molded plastic, one white and one blue, with decal sheets that could be applied. The aluminum chassis is a standard Strombecker configuration. Repair parts are a bit hard to find, today.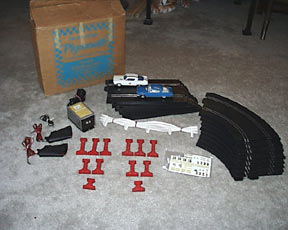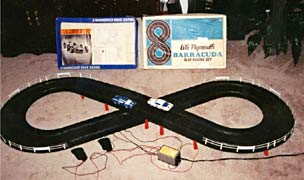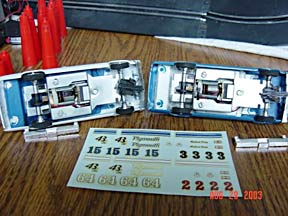 Following is an advertisement indicating the slot car set could be purchased at participating Chrysler/Plymouth dealers. (Those are 1966 dollars, so it's not as cheap as it looks. Figure about a factor of 10, for today's dollars.) It's unclear whether the set could also be obtained directly from Strombecker, although they do show the Barrcuda in their catalog. Strombecker's "free issue" to their Inside Track magazine was also apparently distributed with a new car set, based on the frequency with which we find that item today.
(Many thanks to Teresa Boardman who was selling some of these items on an eBay auction, for not only kindly granting reprint permission but then providing better close-up photos as well. If interested in her seemingly-never-ending supply of antiques, search for user ttajk.)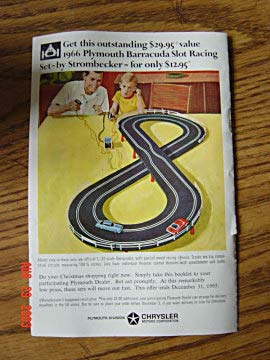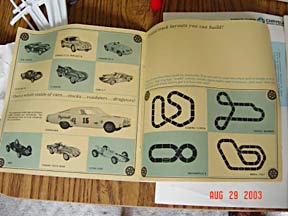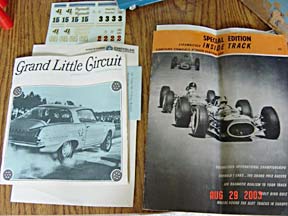 The car bodies are reasonably well-proportioned and nicely detailed. For ease of construction, the rear chrome piece is a combination "bumper and 2-taillight" assembly. It also suffers the most abuse of any part of the car, when the tail swings out and hits a guard rail. Finding a spare car with an intact rear bumper can be a challenge. It seems the stripe stickers are rarely installed down the center, the way the factory painted the real cars... and sometimes, you even find a car that someone else has painted.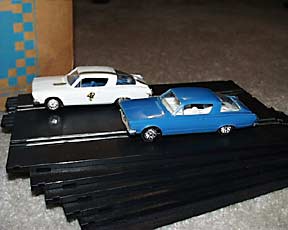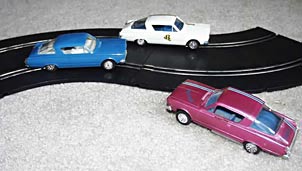 photos: E. Ievins
There are a few other examples of Barracuda slot cars of this vintage, though none quite as famous as the Strombecker. Here is a red 1965 made by Aurora, and a blue 65 made by Motorific. The latter isn't even technically a slot car, although it apparently will run on a slotted track under its own battery power.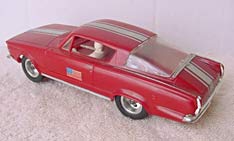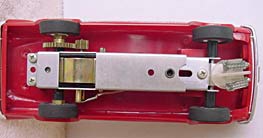 photo credits: miscellaneous eBay auctions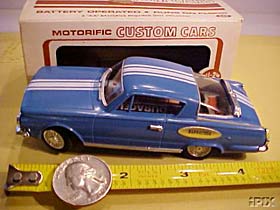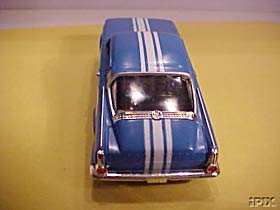 In those days, the big names in slot car manufacturing included Strombecker and Eldon. Nowadays, you'll see the likes of Ninco and SCX and Scalextric and Fly, and you'll see niceties like flexible track that handles hills much better, and apparently doesn't complain as much if it gets accidentally stepped on. The 1/32 cars are a lot more fun than the little tiny Tyco HO scale that I knew 20 years ago, since the traction is fairly realistic. If you want to hang the tail out on a curve, it takes some skill, but can be done. By comparison, the little ones stick to the track with magnets, and past the point of diminishing talent they just casually flip off the edge.
Thanks to www.fantasyworldhobbies.com for selling me a replacement set of rubber tires that fit the old Strombecker rims. While they're not really "reproductions", they're better than dry-rot which is probably all you'll find in an original specimen. And take my word for it, these Strombecker cars were virtually worthless until I obtained decent traction. Coincidentally, I also bought a couple of modern cars to run on the old track, and am significantly more excited by them than the old Barracudas... I guess it all depends on whether you want a historic collector's item, or a toy to actually use.
Still, having a pair of 1966 Barracuda slot cars in a display case is really cool!
Erik Ievins,
Dec. 2003